Ganymede is the second character you encounter on Aquarius Island. He is used by Otho as an obstacle to hinder your progress through tamer battles. Ganymede is submissive and obeys Otho's orders as he 
believes that it is fate's desire for him to be subservient. He is constantly monitored by Otho's hawk, who pecks him as punishment for unsatifactory performance, and reports any flaws to Otho. 
Despite his timidness and obedience, Ganymede admires your sense of justice and determination and supports your quest to end Otho's reign.
"It is my fate to serve King Otho. I cannot resist it."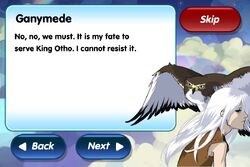 "Fate, man. It's just my fate to have this giant bird sitting on me all the time, pecking me and talking to King Otho. It's not a great life."
"Fate is a harsh master."
"You have my best wishes tamer. I envy your freedom and hope you succeed."
"You are a great tamer. May you be as just as you are powerful."